Where: Severino's Bar & Grill
When: Friday Night, March 16th from 7:30- to Midnight
Cost: No Cover-dance your butt off!!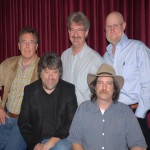 About Jedd Brother: a classic rock, club style dance band. They have performed at many venues and private affairs, as well as playing all over the SF Bay Area.
Locally, the brothers can be heard at finer places like Severino's Bar and Grill, The Crows Nest and many other local venues.
Check this site often for upcoming shows (This is NOT a bluegrass band that plays rock music, It's a rock band that has a banjo and fiddle!!).